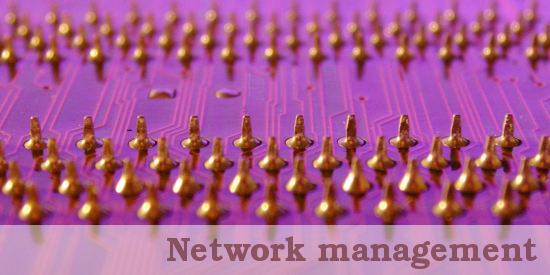 We offer a comprehensive solution for Internet service providers and institutions with their own IT infrastructure
David system created by our company supports management and monitoring of heterogenous network devices. David system is a network management system (nms). It allows you to manage your resources and services through both Intranet and Internet. Auto-discovering and network topology building feature help you to keep more intuitive view of your IT infrastructure. Resources, real-time monitoring and accessibility of historical data let you react faster to arising failures. Configured interfaces for monitored devices allow you to focus on the most important aspects of their work.
Our solutions are especially helpful for companies and institutions which activity depends on properly working computer networks
David system, designed to support network management and monitoring process, can be useful for:
Internet service providers
Banks
Power industry companies
Telecomunication companies
Metropolitan Area Networks
College and University networks
Research centers that use IT infrastructure
Cable television networks providing access to Internet
Other companies and institutions owning complex network infrastructure
We can manage any devices provided SNMP protocol, regardless of a kind or a producer of that devices
David system is characterized by many new solutions, that support you in management and monitoring of your heterogenous computer network. David system can monitor any devices that provide SNMP protocol. Thus, neither a type of a device nor a manufacturer of it, is not crucial. One of the system's fundamental feature is an auto-discovering procedure. David system discovers resources that can be managed, and builds a topology of their connections according to their IP adresses. David system automatically updates every hour information about each device which was previously discovered by the system using SNMP protocol. In this way the system compares earlier information with a current state. Thereby it updates all management items, that were discovered on a given device.
Monitoring any resources provided SNMP protocol is not a problem for us
A crucial feature of David system is monitoring and collecting of resource states in real time. The system notices changes of particular items (such as: BGP peers, network interfaces, ping objects and managed items - that can represent any resources as processors, power supply units, fans, network protocols and many others) i.e. it records the changes in the database and shows them users of the system. The data is available through Web interface of David system and visualized as graphs. The system also provides an advanced alert system, that informs about failures of managed items. Consequently our flexible solutions let you efficiently manage your network.
We can monitor network services on application level
David system can monitor network services in real-time on application level. Response times of selected services are recorded. It is also possible to check if specified services work correctly or not by verification of received data, Gathered data are accessible through Web interfaces of David system and thay can be presented as graphs or logs.
We protect an access to the information about resources, that are monitored
An access to data of David system is protected against their illegal exploitation. The system has an advanced system of access control to collected data and Web applications based on users and groups alike as Unix file systems.
We keep all data in a SQL database
Almost all gathered data are kept in a SQL database. The system, during its work, uses that data. In this case, all interfaces to the system (X-Windows applications, Web applications) work on the same current data.
The new release of our network monitoring system is available. David system 3.1.0 has been released as both RPM and DEB packages. Free Edition is available to download.
January 7, 2011
more...
The fixed version - David system 3.0.1 - of the latest release of our network monitoring system David system 3.0 is available. Free Edition is available to download.
September 17, 2010
We are pleased to announce the availability of the new version of our network monitoring system David system 3.0. It is also available as RPM packages. Free Edition is available to download.
September 5, 2010
David system 3.0 is on its way and will be released soon. It will be the first distribution available also as RPM packages.
May 14, 2010
The new release of our system - David system 2.8.0 - is available. Free Edition is available to download.
January 26, 2010
The new release of our network monitoring system - David system 2.7.0 - is available. Free Edition is available to download.
September 12, 2009
The new version of our network monitoring system - David system 2.6.0 - has been released. Free Edition is available to download.
June 12, 2009
The new version of our network monitoring system - David system 2.5.0 - is available. Free Edition is available to download.
February 24, 2009
The documentation of David system, our network monitoring system, has been updated.
February 23, 2009
The fixed version of our system - David system 2.4.1 - is already available. Free Edition is available to download.
December 31, 2008
The new version of our network monitoring system - David system 2.4.0 - is available. Free Edition is available to download. The documentation will be updated shortly.
November 25, 2008
The fixed version of our network monitoring system - David system 2.3.2 - is already available. Free Edition is available to download.
July 8, 2008
An important bug has been found in the last version of our network monitoring system - David system 2.3.0. Upgrade to the version 2.3.1 is recommended. Free Edition is available to download.
April 23, 2008
The new version of our network monitoring system - David system 2.3.0 - is available now. Free Edition is available to download.
March 29, 2008
The latest version of our network monitoring system has just been released. A few bugs have been found and fixed. The new version of the Free Edition - David system 2.2.2 is available to download.
January 30, 2008
Because of an important bug, an update of our network monitoring system has been made. The new version of the Free Edition - David system 2.2.1 is available to download.
December 30, 2007
Possibilities of monitoring of network interfaces have been extended in the Free Edition of David system. The number of network interfaces you can monitor has been increased from 150 to 1000!
December 29, 2007